Food and drink on Madeira
Madeira is a South-European island but its kitchen cannot be compared to other Southern countries such as Greece, Italy, Spain or even the Portuguese main land.
Food and drink is prepared with local ingredients, the gifts of natures.
Most meat dishes consist of beef, porc or chicken.
Fish that can be found in most any restaraunt of Madeira is Tuna and other, for us rather unusual species.


Traditional dishes.
Espetada em Pau de Lauro.

Espetada is meat on a skewer. Usually the meat being used is beef but there are some variants such as "espetada de frango" (chicken on a skewer).
The meat is put on a laurel stick and prepared with garlic and salt over a wood fire.
The traditional skewer that is used at home can be quite long, but in restaurants the size is kept small enough to fit on a plate. Should a longer metal stick be used, then it is usually up-hung on a rack which is installed on a table. The juice that drips off the meat is captured on the plate below.
In restaurants espetada is served with French fries and green salad.


Espada (Black swordfish)

Espada fish is catched in the very deep water that surrounds Madeira.
This fish, that looks very ugly when you see it with head and all, is used in many traditional dishes.
The meat of the fish is very white.
A very tasteful dish is Espada with Banana, a combination of tender fish and a tropical taste.


Bife de Atum a Madeirense (Tuna steak Madeiran style)

There is plenty of Tuna fish in the sea that surrounds Madeira.
This fish is grilled "Madeiran style" (over a wood fire) and is served with green salad and a Madeiran rose.


Bacalhau (Codfish)

Bacalhau is a cheap fish and can be prepared in many ways. On Madeira they say there is a recipe for every day.
My favourit dish is Bacalhau com Late, an oven dish with potatoes, codfish and creamy milk.
Wafers and delicacies.
In most restaurants or cafes you can taste wafers and cakes.
Most loved among tourists is the "Bolo de Mel", a honey cake available with or without cinnamon. Bolo de Mel can also be bought in most every shop.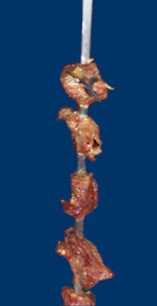 The traditional drinks of Madeira.
Madeira has some typical drinks.
Madeira Wine is world famous. Vinyards are all over the island. The locals dare to prepare their own wine with several types of grapes. This dry wine (Vinho Seco) is not bad at all.
The portions served in restaurant may be a bit small for Brittish standards. On the other hand, a bottle of 5 year old Madeira costs 5 to 10 euro depending on where you buy it.

Nikita is the typical refreshing drink invented in a Camara de Lobos, a fisherman's village in the south of Madeira.
It is made of beer, vanilla ice and pineapple and will usually be consumed by woman.

Poncha is typical drink for males and can be consumed cold or warm.
I have no idea about the specific ingredients. In Camara de Lobos it comes fresh prepared but in restaurants they have it in a bottle. One thing is sure, it contains a lot of alcohol and it has a bitter limon taste.

Ginja is a typical drink from Curral das Freiras. The liquor is made of cherry or chestnut, a typical tree for this place.

If you like coffee then this may we well worth knowing :
In Madeira you don't order a coffee, but a Chino, a Chinesa or an Espresso.
A "Chino" is a normal coffee.
A "'Chinesa" is coffee with milk, but contains more milk than coffee.
An "Espresso" is a small coffee.
If you order a coffee with milk, then they'll bring you a coffee with a (often too big) portion of milk already inside the coffee.
Only the sugar comes seperately.

Prices for food and drink.
Prices for food and drink are very democratic compared to the UK.
There seems to be one rule: The further away from Fuchal, the cheaper things become!
A beer (33cl) -usually Coral brand- costs in Funchal approximately 2 Euro, in Porto Moniz it costs only 1,25 Euro.
A limonade costs in Funchal approx. 1,50 Euro (for 33cl), often only 0,75 Euro in other places.
A bottle of red or white Monte Velho wine will cost in between 10 and 12 Euro.
The prices in restaurants may vary a lot. For an espetada it could vary from 6 to 12 Euro.
When you compare the menus, then note that sometimes the french fries and salad, knife and fork are not included in the price.
Many restaurant will put a bread with garlic butter on the table. You will find it on your ticket, no matter if you've touched it or not.
Picknick and food supplies in Madeira.
The beautiful roads with their nice views may invite for a picknick.
Each village has a shop or a mini-market.
Finding fresh bread should never be a problem and there is always at least a small choise of ham, salami and cheese.
If you travel with small children and you need baby food, then it may be smart to go shopping in the supermarkets.
You will find one in Funchal and Canico, and also in Calheta near the Calheta Beach Hotel.